ACTi has developed a cutting-edge video analytics platform that uses artificial intelligence to tap into the wealth of visual information created by its advanced cameras and other sensors.
To identify a specific object, person or behavior in a video, a model needs to be trained first. This process requires an immense amount of data and computing power. NVIDIA TITAN series GPUs deliver the extreme performance necessary for the training of deep learning models.
These trained models can then be deployed at the edge in a variety of applications, ranging from public safety to traffic management, using an NVIDIA Jetson TX2, which is an AI supercomputer on a module.
The analyzed data is managed through a comprehensive ACTi application software, which can be customized for different vertical markets and projects.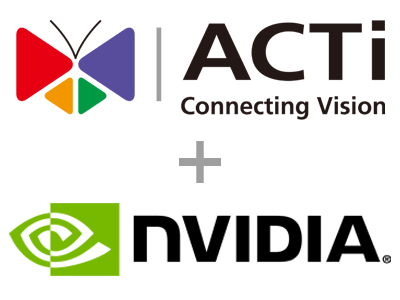 ACTi Corporation, founded in 2003, is an end-to-end IP video surveillance solution provider, covering all the way from security to business management solutions.
The core value of ACTi is to deliver these solutions through in-house developed technologies applied to its whole product line. These products include IP cameras, video management software and video analytics that are seamlessly unified. These solutions are customized for all markets through the comprehensive support of pre- and post-sales service tools and utilities.
ACTi's world-wide 24/7 technical support ensures customers a service they can depend on.